Craig Ryan jailed for shining laser pen at police helicopter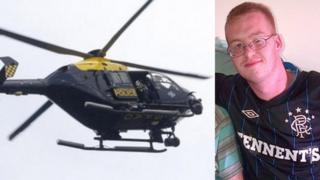 A man who targeted a Police Scotland helicopter with a laser pen has been jailed for 12 months.
Craig Ryan, 23, shone the beam at the aircraft from his garden in Stevenston in September 2014, forcing the pilot to take evasive action.
Kilmarnock Sheriff Court heard officers on board were investigating a possible firearms incident.
They used thermal imaging equipment to locate Ryan who admitted a charge of culpable and reckless conduct.
Jailing Ryan, Sheriff Alistair Watson told him the incident could have had "catastrophic" consequences, adding: "It was so serious that only a custodial sentence is appropriate."
'Evasive action'
Jennifer Thomson, prosecuting, told the court that two officers were on board the aircraft to assist with a firearms incident.
She said: "At about 9.35pm they became aware of a green laser pen being shone at the aircraft.
"This caused the pilot to take evasive action to prevent the laser interfering with his night sight, as he was flying at low level. This happened several times."
The crew pinpointed the beam to Ryan's home in Burns Place, Stevenston, and as local officers closed in they saw one of three suspects dump the laser pen under a tree.
Ms Thomson added: "At this time the accused freely stated to officers prior to being cautioned, 'I'm sorry, it was me.'"
Fraser Alexander, defending, said: "He should have known better, especially in the wake of the Clutha tragedy. It was just good luck that nobody was killed."
A spokeswoman for the British Airline Pilots Association (Balpa) said: "Shining a laser pen at an aircraft puts all those on board and those on the ground nearby in danger.
"It is vital people understand that if they endanger flights they will be prosecuted and could face serious penalties.
"Balpa believes prison sentences should be the norm, showing people just how serious this can be."