Second man in court after journalist attacked at home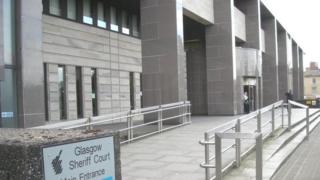 A second man has appeared in court charged with attacking a Scottish Sun newspaper journalist on his doorstep.
Crime reporter Russell Findlay was assaulted at his home in Glasgow's west end, on 23 December last year.
Alexander Porter, from Paisley, appeared in private at Glasgow Sheriff Court charged with carrying out the attack.
The 47-year-old made no plea or declaration and will appear again next week for a full committal hearing.
Papers from the court claim Porter pretended that he had a postal delivery for Mr Findlay to persuade him to open his front door before throwing sulfuric acid, or a similar substance, over his face.
It is also alleged he threw a glass jar, struggled with Mr Findlay and spat in his face causing severe injury.
Porter also faces a second charge of attempting to murder Ross Sherlock on 24 September in Bishopbriggs.
It is alleged that while acting with another, Porter "with face partially masked, did present a handgun at him and repeatedly discharge said handgun striking him on the body to his injury and to the danger of life."
William Burns, 55, from Paisley previously appeared in court on the same two charges.