Couple cleared after £7m cocaine empire trial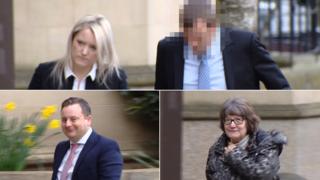 A husband and wife have been cleared after a five-month trial over an alleged £7m cocaine empire and money laundering operation.
Graham Clarke, 36, and his wife Lindsay, 32, from Larkhall in South Lanarkshire, walked free from court after the case was found not proven.
Neil Anderson, 40, from Cumbernauld, was also cleared of supplying cocaine.
Mrs Clarke's mother Marilyn Nixon, 65, from Darvel in Ayrshire, was found not guilty of money laundering.
The jury were out for three days before returning their verdict.
Soft play business
Lindsay Clarke was found guilty of one charge of mortgage fraud and will be sentenced next month.
Prosecutors claimed that the Clarkes lived the high life with no legitimate income to back it up.
They said criminal money was used to pay for the setting up of the couple's successful soft play business, Rainforest in Motherwell.
Judge Lady Wise told the jury that the case hinged on whether they believed the evidence of twice-convicted drug dealer David Hunter.
She said if they did not believe him then the case against the four accused could not be proved.
Outside court businessman Mr Clarke said: "I'm delighted at the result. The jury accepted that David Hunter is a liar. This has been a nightmare for my family. I'm just happy it's over.
"I've always denied being involved in drug dealing and money laundering. My customers will now know that I'm innocent."
Drugs trade
Hunter, whose nickname the jury heard was Pinnochio, became a supergrass after being caught red-handed at a cocaine factory at Dykehead Farm, East Kilbride, in May 2010, and was jailed for six years and five months.
As a result of him turning supergrass, his sentence was reduced to 30 months and he only paid £145.45 of the £165,000 the Crown had ordered him to pay under the Proceeds of Crime act.
Hunter was given a new identity in exchange for the information he gave to police.
Hunter told police that mr Anderson and Mr Clarke had recruited him into the drugs trade when he was at a low ebb shortly after the death of his mother in 2008.
The supergrass admitted to police that he had been jailed for 26 months for selling ecstasy, but he failed to tell them that he had been selling cocaine for five years before he claimed he was approached by Mr Clarke and Mr Anderson.
As a result of the information given by Hunter, a massive undercover police operation was launched. Mr Clarke and his wife and Mr Anderson were followed and Graham Clarke's car was bugged.
In court, a voice expert described the taped evidence as "not reliable" because of intrusive engine noise which made much of it "unintelligible".