Fire caused by man who used heat gun to defrost freezer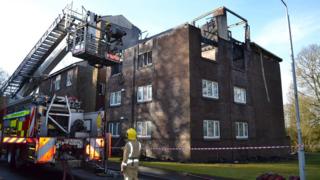 A major fire which almost destroyed a block of flats began after an elderly resident used a heat gun to defrost a freezer, the BBC understands.
About 20 residents had to be evacuated from three-storey building at Bishop's Gate, Thorntonhall, South Lanarkshire, when the blaze broke out on 29 April.
Investigators have now concluded it started when a paint-stripping device was used to clear ice from a freezer.
Heat guns can generate temperatures in excess of 500 degrees Celsius.
The Scottish Fire and Rescue said at the time that the blaze was initially tackled by eight firefighters inside the building.
However, they were withdrawn over fears the building might collapse.
Efforts to fight the fire continued externally using a specialist appliance.
The blaze was eventually extinguished, but the roof of the building was destroyed - along with most of the third storey.
It is not yet known whether the building may have to be demolished.
Residents of Bishop's Gate were given teas and coffees at the nearby Thorntonhall Tennis Club following the evacuation.