Man admits causing Paisley hit-and-run death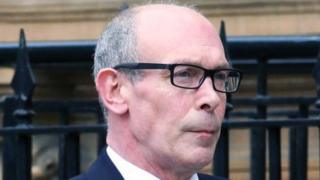 A man has admitted causing the death of a woman in a hit-and-run incident which left her so badly injured that she died in hospital on Christmas Day.
Robert Webster, 57, struck 48-year-old Angela McGregor with his Volkswagen Golf as she crossed Love Street in Paisley on 23 December last year.
He failed to stop at the scene or report the incident but was caught after a police appeal to trace him.
At Paisley Sheriff Court, sentence on Webster was deferred.
Sheriff Vincent Canavan told Webster: "This is an offence which carries a prison sentence of up to six months imprisonment - whether or not the court chooses to do so is another matter.
"I'm going to call for a full range of criminal justice and social enquiry reports on whether or not this is going to result in a period of imprisonment."
Webster admitted driving the car which struck Ms McGregor, leaving her "so severely injured that... she died" and failing to stop and provide information.