Toddler narrowly avoids injury in M&D's Tsunami crash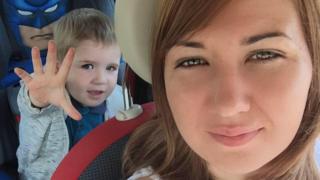 A mother has spoken of her horror at watching a rollercoaster crash to the ground - just two feet away from her toddler son.
Amy Thomas, from Shotts, said debris from the Tsunami ride narrowly avoided hitting three-year-old Dylan.
He was playing on a toddlers' ride below the rollercoaster at M&D's theme park near Motherwell when it derailed on Sunday afternoon.
Nine people, including seven children, were injured in the incident.
Ms Thomas said Dylan has suffered nightmares since the crash and she has been prescribed medication to deal with the shock.
'Daddy crash'
Speaking to BBC Scotland, Ms Thomas said her son was playing on a small green bike below the Tsunami ride.
"The rollercoaster above went to turn a corner but it didn't quite make it, bits started cracking off and then it just fell," she said.
"The front carriage broke off and pieces were bouncing to the ground.
"Luckily there was a fence surrounding the toddlers' ride which bore the brunt of the falling debris, but pieces of it landed two feet from him."
She said she "froze" but her partner ran to rescue Dylan.
"The only thing Dylan said when he was picked up was 'Daddy crash'," she added.
"He had a nightmare last night. I'm not sure if it's related to the crash or not but I hope this isn't the start of something.
"It's a shame because Dylan was just starting to love rollercoasters, but I'll never let him on one again.
"I won't be back at M&Ds, and we'll have to cancel our trip to Flamingo Land next month."
Family business
She said she was "completely shaken up" and she added: "We're just trying to plod along and get back to normal but I'm reluctant to even put him into nursery this week. I'm scared to be away from him."
The Health and Safety Executive (HSE) and Police Scotland have launched an investigation into the crash, which happened at 15:37 on Sunday.
Police said the crash happened after five gondolas on the Tsunami inverted rollercoaster detached from their rails at a bend and fell to the ground.
The director of the theme park, Douglas Taylor, said he and his brother, Matthew, were "devastated as both a family and a business".
"Our heart goes out to everyone who has been affected by this accident", he added.