Kelvingrove Art Gallery marks reopening anniversary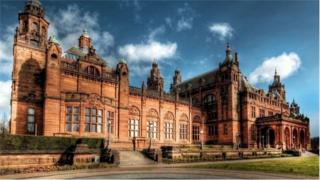 Kelvingrove Art Gallery and museum in Glasgow has marked the 10th anniversary of its reopening following major refurbishment.
The museum re-opened on 11 July 2006 after being closed for three years.
Organist Chris Nickol performed as part of a staged recital to mark the occasion.
Mr Nickol played his version of David Bowie's Life on Mars which gave the organist internet fame following the singer's death in January.
Dr Jim Hunter, honorary director of music, was also part of the special recital, performing 10 pieces of music selected by the public.
Since its reopening, the museum has been visited by 14 million people. It puts on a free organ recital every day.
Councillor Archie Graham said: "Kelvingrove is a magnificent and much-loved building, which has brought the world of art, history and natural history to life for visitors for more than 100 years.
"The outstanding refurbishment, which was unveiled to great applause 10 years ago today, preserved the building and collection - and all the joy and discovery that comes with it - for generations to come."