Dangerous driver jailed for crashing into house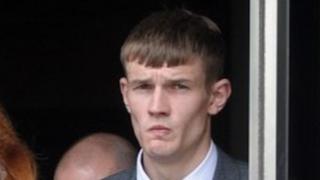 A speeding motorist who crashed his car into a house in East Dunbartonshire, injuring two people, has been jailed for 18 months.
Ross Aitken, 23, from Kirkintilloch, ploughed into the house in the town after losing control of the vehicle on 27 October 2014.
The crash caused more than £41,000 of damage and injured a woman and 13-year-old girl in the property.
Aitken was jailed after he admitted a charge of dangerous driving.
'Serious consequences'
At Glasgow Sheriff Court, Sheriff Martin Jones QC said: "Young drivers have to understand that they bear the same responsibility as any other road user.
"Where this type of driving arises the court has to take steps to ensure everyone who drives on the road knows then they cause severe injury by dangerous driving then the consequences for the driver will be serious and significant."
The court previously heard that the crash happened when Lindy Wright and her husband Stephen were at their home on Waterside Road. A teenage girl was in the living room at the time.
Mr Wright went into the kitchen about 19:00 when Aitken's car failed to stop at a nearby give way junction.
It then mounted the kerb, went on to a grass verge, through a metal pedestrian railing, over a communications box before ploughing into the Wright's front garden and into their living room window.
As the car crashed into the house it propelled Mrs Wright and the young girl into the dining room.
Brake failure claim
Mr Wright heard an "almighty bang" and saw his wife staggering towards him when he ran towards the living room.
She collapsed in the kitchen with her leg covered in blood. Neighbours took the 13-year-old and another child out of the house.
Police arrived at the scene and Aitken told them: "It was me, I was driving. My brakes didn't work. Are they okay?"
He claimed he was driving about 40mph but witnesses estimated it was faster.
Mrs Wright was taken to Glasgow Royal Infirmary where she underwent surgery to remove tissue from her leg wound and received 30 stitches. She was left with permanent scarring.
The 13-year-old girl was treated for heavy bruising and scratches to her left leg which later developed a blot clot, requiring surgery.
Aitken admitted driving dangerously, driving at excessive speed, losing control and injuring Mrs Wright to her severe injury and permanent disfigurement, and the schoolgirl to her injury.