Cambuslang man who sold guns from bedroom jailed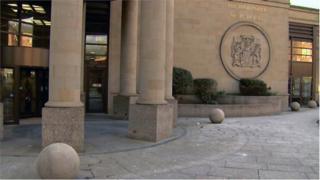 A man who sold guns from his bedroom at his parents' home has been jailed for five years.
Jamie McCort, 33, from Cambuslang, near Glasgow, sparked a UK-wide police probe after selling weapons via a specialist firearms website.
The illegal haul included an air-rifle as well as gas pistols, revolvers, CS gas canisters and a Taser-like device.
McCort, who was caught after a gun enthusiast alerted police, was sentenced at the High Court in Glasgow.
He had previously pleaded guilty to a total of 17 charges, including selling prohibited weapons, last month.
It was claimed McCort turned to crime having become "a recluse" following an earlier assault on him.
Judge Lady Rae told him: "What makes this matter so serious is the number of weapons involved."
A silencer
In January this year, McCort advertised a starter pistol for sale on a website visited by weapons collectors.
One man read the listing and believed the firearm may be "prohibited".
He sent a screenshot to police who confirmed the weapon was illegal to import into the UK.
Officers went on to initially discover a Black Ops sniper air rifle capable of firing pellets. A silencer and telescopic sight was attached.
Two revolvers which could discharge pepper spray were also seized, along with live blank cartridges.
Officers went on to find a working electric stun gun along with CS gas canisters in McCort's room.
McCort later admitted that he had bought the items from a French website.
It was then discovered a haul of gas pistols had been sold to 14 different people.
'Irritant gas'
Prosecutor Bernard Ablett said: "He stated that he only sold within the UK, but could not provide details of his customer base."
A total of 23 different police forces across the country were called upon to trace those who had bought the weapons.
The court heard that all but four of the pistols were recovered.
McCort also told police that he was expecting delivery of two more firearms at his house.
The packages were intercepted and found to be German revolver-style weapons capable of discharging "irritant gas cartridges".
Shahid Latif, defending, said a previous attack on McCort had been "catastrophic" for him with his parents describing their son as a "recluse".