Scottish woman mistaken for Donald Trump's campaign manager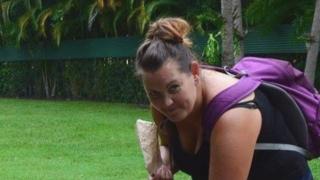 A Scottish woman has been inundated with online messages from people who confused her with Donald Trump's campaign manager.
Kellyanne Conway, 32, from Glasgow, said dozens of Facebook users had confused her with a US namesake at Trump HQ.
The Glaswegian was forced to issue a disclaimer on her profile that warned she was the "wrong Kellyanne Conway!".
She said her family were "howling" with laughter at some of the messages.
Ms Conway told BBC Scotland she could see the funny side after she received an array of "strange" emails including one that thanked her for "boarding the Trump train!".
'A right laugh'
The 32-year-old, an office administrator, said her family and co-workers had been amused at messages sent to her from people trying to contact a senior adviser at Donald Trump's presidential election campaign.
She said: "It's been so funny - me and the girls at work have had a right laugh about it.
"My family are absolutely howling [with laughter] too ."
The office worker, employed at JR Group in Paisley, said messages had been sent to her intermittently throughout the US presidential race, but she was inundated with dozens more after the US President-elect was announced.
Ms Conway said the disclaimer on her Facebook profile has not helped much, as she has continued receiving the messages.
When asked if she was a fan of the US President-elect, the Scottish office worker said that while she does not have strong views on American politics, Mr Trump was "not really her cup of tea".