Great Scottish Run discount offer for 2016 finishers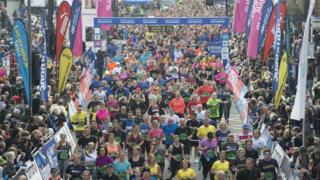 Runners in last year's Great Scottish Run half-marathon - which was found to be too short - will be eligible for a 50% discount this year.
Organisers of the run made the announcement on Twitter, but said all 2016 finishers will receive an email this week with more details.
The course, beginning in George Square and ending at Glasgow Green, was 149.7m short of the full 13.1 miles.
It was measured on Sunday following concern the route was too short.
This finding invalidated the record set by winner Callum Hawkins and the personal best times recorded by a number of runners on the day.
The Great Scottish Run said the discount would also apply to 2016 finishers who had already entered the 2017 event.
About 9,500 competitors took part in the Bank of Scotland Great Scottish Run half-marathon on Sunday 2 October last year.
The Newcastle-based Great Run Company has apologised to all runners and winner Callum Hawkins.