Woman praises train guard after racist attack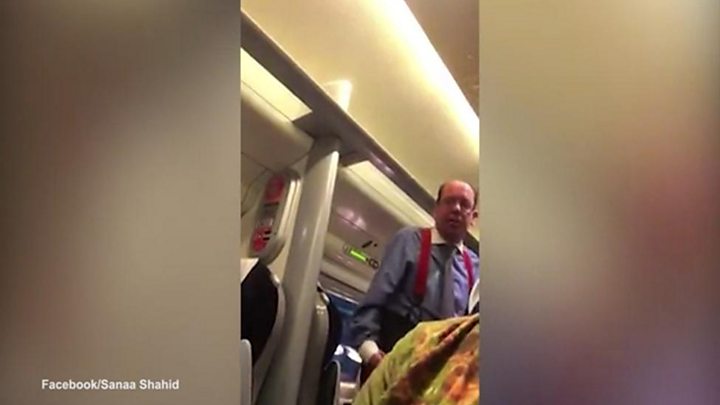 A woman has praised a guard who came to her aid after she and her young son were racially abused on a train.
Sanaa Shahid and her four-year-old son were accosted by solicitor Alexander MacKinnon as they travelled on the Glasgow-bound service from London.
The Virgin Trains guard challenged MacKinnon and eventually removed him from the train.
MacKinnon admitted the racially aggravated offence at Carlisle Magistrates Court on Tuesday.
He was fined £1,154 and ordered to pay Mrs Shahid £50 compensation.
Mrs Shahid, who is also a lawyer, said she was targeted by MacKinnon on the 14:30 train on 29 December after he took exception to her and her son's presence in first class.
After telling her she did not belong, Mrs Shahid told MacKinnon he was a racist and began filming him.
As he prepared to be escorted off the the train, MacKinnon told Mrs Shahid: "You're so wonderful wasting police time, miss", before swearing at her and her son.
Mrs Shahid answered: "You're a disgrace to humanity. Just get off."
'Drunk and racist'
Earlier, MacKinnon was also heard speaking on his phone, saying that it was "my word against hers".
The train guard then approached MacKinnon and told him: "It's not just your word against hers, it's mine as well because I heard it all."
The guard added: "We're not going to accept it. You're drunk and racist and you need to get off the train."
Writing on her Twitter page, Mrs Shahid said she could not speak highly enough of the train manager who helped her and her son.
She added: "Sat with us until the guy was taken off by [British Transport Police]".
Mrs Shahid also thanked the BTP and tweeted: "Thank you for the excellent support and reassurance u gave following this incident and for pursuing the matter."