'Smart' sensors fitted to litter bins in Glasgow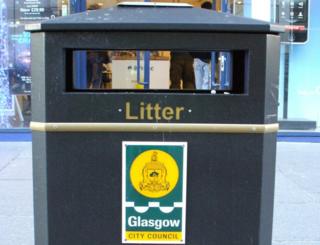 Over-flowing street bins in Glasgow could become a thing of the past, with plans to install sensors that alert cleansing staff when they need emptied.
The trial by Glasgow City Council will see up to 400 bins transmitting alerts to a control room.
The initiative will help to identify areas where bins need emptied more often, as well as helping to eliminate unnecessary trips to quieter locations.
The plans are part of the city's £6m investment in cleansing services.
The funding package includes 215 new staff to help keep the city's streets clean, and the extension of contracts for 75 Environmental Task Force trainees until March 2018.
Council leader Frank McAveety said: "This package of measures will ensure resources are focused where they are needed most and reduce wasted journeys to quieter areas to check if bins need emptied.
"This will make the service more efficient, meaning staff can spend time in busier areas where bins need emptied most frequently."
Glasgow currently has 10,000 on-street bins and some, such as those in Sauchiehall Street, are emptied up to three times a day.