Scaffolding taken off historic Inveraray buildings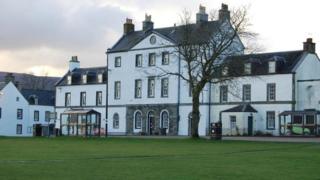 The striking white facades of historic buildings in an Argyll village have been revealed after scaffolding was removed following restoration work.
For the past year, some of Inveraray's most prominent buildings have been covered as part of a £2m restoration programme.
Four of the five "priority buildings" have been finished, with the fifth due for completion in the summer.
The late 18th Century village attracts thousands of tourists each year.
Historic Environment Scotland (HES) provided £970,000 of funding through its Conservation Area Regeneration Scheme.
Thomas Knowles, Historic Environment Scotland, said "The CARS scheme is our way of investing in the historic heart of Scotland's communities, and it's great to see Inveraray reach this milestone."
Several other bodies have helped fund the restoration including Argyll and Bute Council, which provided £350,000 and Argyll Community Housing Association.
The five buildings targeted under the CARS were:
The Town House
Chamberlain's House
The Old Temperance Hotel
Relief Land
Arkland (due for completion in the summer)
Councillor Aileen Morton said: "It is really pleasing to see the regeneration work in Inveraray, which started in 2013, reaching this visible stage.
"The town is looking great and will help our ambition of attracting visitors to come to our historic town."