Possible organised crime link to Stepps shooting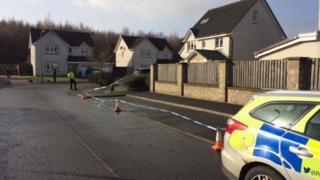 A "targeted" shooting which left a man injured near Glasgow may be linked to organised crime, detectives have said.
A 42-year-old man is being treated in hospital for an arm injury after being shot outside his home in Stepps.
He had been reversing his car out of his drive just after 21:00 on Sunday when a white Audi estate car pulled up and several shots were fired.
A car matching the description was later found burnt out in the Haghill area.
Police are treating the attack as attempted murder.
The injured man was taken by ambulance to hospital where his condition was described as stable. He is awaiting surgery.
It is not known how many people were in the attackers' car.
Police Scotland said four or five shots were heard but no ammunition or weapon have been recovered.
The car sped off along Honeywell Drive and onto Dewar Road.
'Targeted incidents'
Det Supt Kenny Graham said: "We are in the process of establishing the motive for this incident and we are looking at a number of lines of enquiry.
"We do believe the victim was the intended target. Understandably, local residents will be concerned by this event, however, be assured, a team of experienced detectives is dedicated to this inquiry to establish the full circumstances of the crime and trace whoever is responsible.
"I would like to appeal to anyone who was in the area around the time of the incident to get in touch with us, you may think what you know is not important but let us be the judge, and pass your information on.
"In particular, if anyone has any information on the white Audi Estate car. Perhaps you noticed it in the street or did you see it speed off along Dewar Road. Please do think back and consider if you saw anything odd or suspicious and contact us."
The detective said he was aware that there had been a number of similar incidents in recent months in and around Glasgow, often happening in residential areas, in daylight or near schools.
He added: "I do, however, believe that these are targeted incidents, involving people concerned in serious and organised crime and we have a number of investigations underway to identify those responsible.
"It's too early to say whether these incidents are linked but I remain open-minded and will explore every avenue.
"However, at the moment, there's nothing to suggest that there is any link to the incident in Shawlands last week and this incident in Stepps.
"As these incidents demonstrate, these individuals have access to firearms and will use them. This behaviour will not be tolerated by Police Scotland, particularly when there is such blatant disregard for public safety.
"Organised crime is a serious issue that affects individuals, communities and businesses across Scotland and Police Scotland is actively targeting those involved in it."
In the Shawlands incident last week, a man was injured in the leg when a gunman opened fire.
Officers are carrying out door-to-door inquiries and gathering CCTV footage following the most recent attack. Extra officers will be patrolling the area.