Glasgow plan to preserve lanes' 'rich heritage'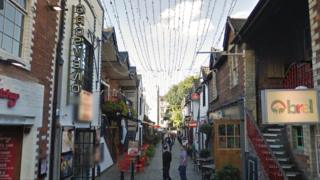 A plan to transform the network of lanes in Glasgow city centre is to go out for public consultation.
Glasgow City Council said the 90 lanes were a valuable part of the city's "rich heritage and character".
Many are already used successfully by businesses, but the authority said others were blighted by dumped rubbish and anti-social behaviour.
The draft city lane strategy takes into account the experience of cities around the globe.
Montreal, San Francisco, Seattle and Melbourne have developed similar plans to improve their networks of lanes.
A spokesman for Glasgow City Council said: "The lanes network in the city centre is flourishing in some areas, but could undoubtedly be improved in others.
"The regeneration of these lanes would play a significant role in the ongoing transformation on the city centre, and this draft strategy aims to deliver that.
"The public consultation will help shape the final plan for the network, and we ask everyone with an interest in the city centre to take part."