Man convicted of killing mistress' former partner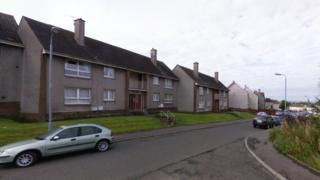 A man has been convicted of killing his mistress' ex partner by stabbing him seven times.
John McKay, 46, had denied murdering William Scott at the victim's flat in Gibb Street, Chapelhall, last April.
A trial at the High Court in Glasgow heard how a seven-year-old girl had found Mr Scott, 43, dying.
In a police interview, the child said she had heard "shouting" before a man with "blood" on his hand raced out and into a car.
The court heard how McKay had been caught cheating when his girlfriend Marion Carson discovered he had used a woman's name to chat with his mistress, Louise Corcoran, on Facebook.
Fatal blow
Ms Corcoran, 34, was the mother to five of Mr Scott's children.
Ms Carson revealed the affair to the victim who had called Ms Corcoran and shouted abuse at her.
The jury was told that when McKay heard what had happened to his "number one" - he went to Mr Scott's flat in Chapelhall, North Lanarkshire, and stabbed him seven times.
Ms Corcoran tried to give Mr Scott CPR but he had received a fatal blow to the stomach.
Pathologist Julia Bell later told the trial he also had "defensive type" wounds suggesting he had tried to fight off his attacker.
McKay was remanded in custody and is due to be sentenced next month.