Pilots deny being over alcohol limit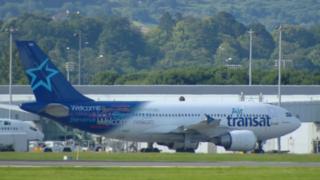 Two Canadian pilots have denied being under the influence of alcohol as they prepared to fly a passenger jet from Scotland.
Jean-Francois Perreault, 40, and Imran Zafar Syed, 38, were arrested on 18 July before the Air Transat flight from Glasgow to Toronto was due to take off.
Both men were suspended by Air Transat after their arrests last year.
At Paisley Sheriff Court, the pair were released on bail ahead of a hearing in April.
The charge stated that Mr Perreault had 32 milligrams of alcohol in 100ml of blood, while Mr Syed had 49 milligrams in 100ml of blood.
The blood alcohol limit for flying is set at 20 milligrams.
Both men also denied a charge relating to acting in a threatening and abusive manner and getting into a fight at the Hilton hotel the same day.