'Injured bat' in Eaglesham turns out to be plastic toy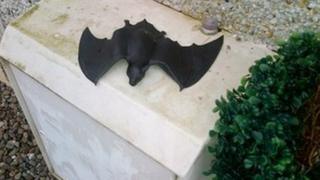 A Scottish SPCA officer was called out to treat an injured bat - only to discover that it was a toy.
The animal charity received a call from a woman in Eaglesham, East Renfrewshire, on Sunday to report that there was a "lifeless" bat on top of a bin.
Inspector Stacey Erwin said: "I went to check on it and expected to give advice on a grounded bat or maybe torn wings."
However, it turned out that the bat was actually a plastic toy.
"The caller had realised shortly before I arrived but it was too late to cancel," she said.
"This job can be very tough as we deal with severely injured animals on a daily basis, so it's quite nice when something like this makes us smile."
Last year, the charity was sent out to help a distressed bird on a roof, only to find out it was a shoe.