Two police officers injured in Glasgow road accident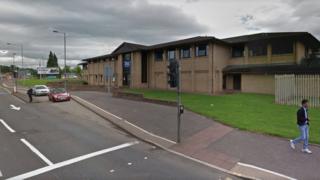 Two police officers have been injured after their police car smashed into a streetlight following a collision with another vehicle.
The marked police car and a red Renault Clio collided on Aikenhead Road in Glasgow near Cathcart Police Office.
Both cars then hit a streetlight and bollard in the accident at about 11:25 on Sunday.
A Police Scotland spokesman said the two male police officers were taken to hospital by ambulance for treatment.
He added that neither were thought to have sustained any serious injury.
"The 59-year-old female driver of the red Renault Clio and her 35-year-old female passenger were also taken to the Queen Elizabeth University Hospital as a precaution," he said.
"The two male children in the car, aged 14 and three years, were not injured."
He said both cars sustained significant damage in the crash and inquiries into the accident were continuing.