Cleanliness concerns at Queen Elizabeth University Hospital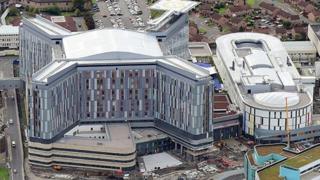 Patient equipment contaminated by blood and faeces has been found during an inspection of a Glasgow hospital.
The Healthcare Environment Inspectorate (HEI) raised "significant concerns" after unannounced visits to the Queen Elizabeth University Hospital in Glasgow from 12 to 15 December.
Inspectors found dust and body fluids on patient trolleys and mattresses.
NHS Greater Glasgow and Clyde (NHSGGC) said the report's recommendations would be rigorously implemented.
Cleanliness in the majority of wards and staff knowledge of standard infection control precautions was found to be generally good.
However, HEI said staff were not always carrying out standard infection control in the emergency department, Immediate Assessment Unit and clinical decisions unit.
Inspectors said the majority of patient trolleys and wheelchairs were dirty, and some were contaminated with blood and body fluids.
Patient and public toilets in the department were also found to be contaminated by blood and faeces.
Concerns were also raised about hand hygiene levels during busy periods, as well as appropriate use of staff protective clothing.
Wrong disinfectant
Poor record keeping was highlighted for infection control in the clinical decisions unit.
The report said staff in this area did not have easy access to chlorine-releasing disinfectant, which is required for cleaning blood and body fluid spillages.
In the immediate assessment unit, one staff member was spotted using detergent wipes to clean a significant blood spillage.
Inspectors also found clinical waste from the neurological intensive therapy unit had not been safely locked away.
A follow-up inspection on 16 and 17 January found that while cleanliness levels had significantly improved, there were still issues surrounding hand hygiene and protective clothing.
'Unacceptable'
NHSGGC nurse director Margaret McGuire said HIS reports were taken extremely seriously.
She raised concerns that not not all of the issues picked up on the first visit had been addressed by the time of the second visit a few weeks later.
She said: "This is unacceptable and I want to publicly assure every one of our patients and their families that the issues raised are now being fully addressed and will be rigorously implemented and maintained going forward.
"We will also ensure that this approach is taken seriously and consistently applied right across all of our hospitals and care settings and all of our staff are committed to this."
She said there had already been significant changes made, including training for staff and more time allocated to domestic duties within the departments.
Dr Jennifer Armstrong, NHSGGC medical director, said it had enlisted the help of Health Protection Scotland to ensure the health board "covered all the bases".