Four people treated for smoke inhalation after Coatbridge flat fire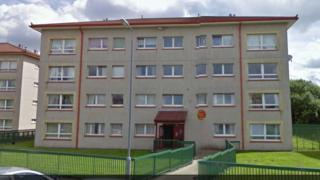 Two adults, a toddler and a baby were treated for smoke inhalation after a flat fire in North Lanarkshire.
Eight adults and four children were led to safety from Sidlaw Court in Coatbridge after the blaze broke out at at about 17:25 on Sunday.
A 40-year-old woman, a man aged 43, an eight-month-old boy and a two-year-old boy were taken to Wishaw General Hospital and released after treatment.
Firefighters using breathing apparatus and a high-power hose tackled the fire.
A joint investigation between police and fire services is currently under way to establish the exact cause of the fire.