Attacker dies after Glasgow city centre incident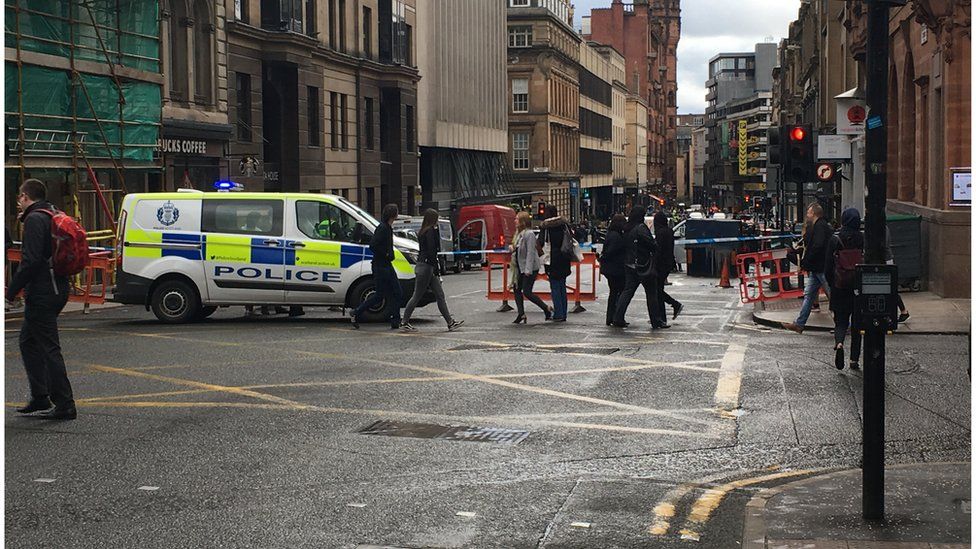 A man has died after inflicting serious injuries on himself in a street in the centre of Glasgow.
Police said the incident in the St Vincent Street and West Nile Street area followed an assault on another man.
Officers were called to the scene at about 16:05 on Thursday. Some witnesses said they had seen a man with knives.
The suspected assailant was taken by ambulance to Glasgow Royal Infirmary but died a short time later.
It is understood the incident is not terrorism-related. Police have said their inquiries are continuing.
A number of police units and the ambulance service were sent to the scene and the normally busy area of the city centre was sealed off to traffic.
A Police Scotland spokesman said: "Around 4.05pm, an assault took place in St Vincent Street, Glasgow.
"The suspect made his way on foot towards West Nile Street where he then inflicted serious injuries upon himself.
Witnesses told of seeing a man with knives at the scene, and pools of blood on the road.
The police spokesman added: "This was a contained and isolated incident.
"Inquiries continue, however there are no other persons sought in relation to the incident."