Murder accused changes plea to admit Glasgow killing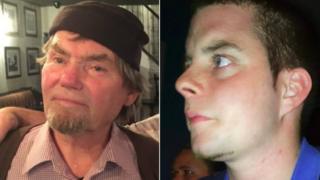 A man has admitted murdering a pensioner in a knife attack in Glasgow last year, after changing his plea to guilty before the end of his trial.
Peter Telfer was captured on CCTV stabbing 76-year-old John Baker on 27 June, only days after being granted bail.
Mr Baker, who had recently been given the all-clear from cancer, later died in hospital.
Telfer, 25, had earlier robbed or tried to rob two women.
He was facing assault and robbery charges and had only recently been freed on bail when he stole a bag from a woman outside Glasgow Central Station.
The High Court in Glasgow was told he later tried to steal another woman's bag in Trongate, then made his way to Calton where the fatal attack took place at about 12:25.
Mr Baker was stabbed twice in the back but managed to stagger into the road and flag down a passing bin lorry.
Cleansing worker Paul Donohoe, 54, told jurors Mr Baker looked in pain as he had told them: "I've been stabbed".
Mr Baker was taken by ambulance to Glasgow Royal Infirmary but suffered a cardiac arrest and died a short time later.
Overwhelming evidence
On Tuesday, as the prosecution evidence concluded, Telfer changed his plea, admitting murder, robbery and attempted robbery.
Judge Lord Matthews continued the case and told jurors: "The evidence in this case is about as overwhelming as it can get."
Earlier, air hostess Victoria Weston, 26, had described the moment Telfer robbed her near Central Station.
She said: "He was pointing the knife while trying to pull the bag away from me.
"He had one end of the strap, I had the other and we were tussling.
"It was very frightening and I felt my adrenaline was pumping through my body."
The attacker eventually "yanked" the bag away - but Miss Weston, as well as two passers-by who came to her aid, initially gave chase.
She later got the bag back after alerting police. Foreign currency was missing from it.