Eleanor Herd jailed for embezzlement from Peel Ports Group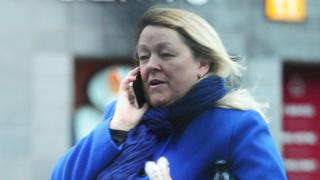 A payroll manager who stole more than £35,000 from her employers has been jailed for 15 months
Eleanor Herd, 57, earlier admitted embezzling funds from Peel Ports Group's Glasgow city centre office over a two year period.
Glasgow Sheriff Court heard that she hid the money in the bank accounts of various family members.
It included £16,387 in her 79-year-old father's account and £14,915 into one of her daughter's accounts.
She was caught when HMRC queried tax owed by employees and an internal audit was carried out.