Temporary lights cause major delays at M74 junction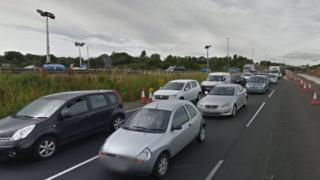 Drivers travelling through a busy junction of the M74 have faced long delays, despite roadworks being confined to weekends.
Commuting traffic was extremely slow on all approaches to the Raith Interchange at junction 5, with drivers reporting travel times of up to two hours.
Traffic Scotland said this was due to temporary traffic lights put in place by the contractor.
At midday, it tweeted that delays were finally starting to ease.
Updates had been sent to the transport minister during the period of major congestion.
Work at the Raith Interchange began in February 2014.
The roundabout had struggled to cope with 75,000 vehicles using the junction each day.
A new underpass has been opened and the Scottish Roads Partnership has also constructed three new bridges over it.