Man jailed after biting ex-partner's lover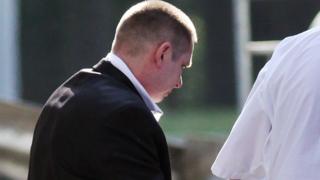 A man who bit the ear of his former partner's new lover after finding them in bed has been jailed for two years.
Allan Shreenan, 47, had denied breaking into Richard Russell's home in Clydebank, West Dunbartonshire and assaulting him on 24 August last year.
Dumbarton Sheriff Court heard Shreenan had two previous convictions for culpable homicide.
He was also given a Supervised Release Order, which means he will be monitored for 12 months following his release.
Shreenan had previously been in a relationship with Mr Russell's new partner Sylvia Morrison-Stewart and they have children together.
'Steam train'
He had gone to Mr Russell's house when his son had become unwell and had asked for the boy's mother.
Mr Russell had told the court that Shreenan had come through his door "like a steam train" and caught the pair in bed.
He said : "I definitely didn't know who it was and definitely did panic.
"He jumped on top of me, grabbed me and started punching me about.
"I got him in a choke hold. I didn't even get to swing a punch. I got my ear bit."
Shreenan then became unconscious.
After regaining consciousness he left the house, leaving his children, who had been in the car, by the roadside.
Crimewatch appeal
Defence solicitor Judith Reid said Shreenan attacked Mr Russell as he "saw red" following "obvious emotional provocation".
He was found guilty and Sheriff Simon Pender jailed Shreenan for two years, reduced from 30 months as he had spent six months on remand.
Shreenan was jailed for seven years for culpable homicide for killing Sean Gillespie in Bonhill in 1992.
He was freed from prison early and stabbed Robert McKenna, 36, to death in Cardross in 1999 before fleeing to Ireland.
He was extradited following a BBC Crimewatch appeal and was jailed for 12 years before being later released early.