Whyte said he had £60m before Rangers bid, court hears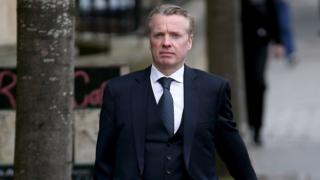 Craig Whyte told a prospective business partner that his firm had £60m in assets, a court has heard.
London financier John Newlands said he had seen documents relating to Mr Whyte's Liberty Capital company.
Mr Newlands later wrote that the future Rangers owner could "comfortably" back a £10m share issue.
Mr Whyte, 46, is on trial at the High Court in Glasgow for acquiring Rangers by fraud, and for a second charge under the Companies Act. He denies both.
Mr Newlands - a corporate financier - recalled how he first met Mr Whyte around 2010, and they later discussed going into business together.
The trial has previously heard how Mr Whyte struck a deal in May 2011 to buy Sir David Murray's controlling stake at Rangers.
It emerged on Monday that in March 2011, Mr Newlands wrote a letter to the Murray Group stating that Mr Whyte could "comfortably underwrite" a possible £10m "rights issue".
'Financial statements'
The 62-year-old witness said he had done this after seeing financial statements from Mr Whyte's company, Liberty Capital, as well as texts and emails showing assets of £60m.
Mr Newlands told a jury he had given his backing to Mr Whyte in good faith as they were in "a business relationship".
He also recalled how Mr Whyte had once stepped in when the financier could not pay his £2,100 rent for his own business.
The Crown alleges Mr Whyte had only £4m available from two sources at the time but took out a £24m loan from Ticketus against three years of future season ticket sales.
The court has heard the sale was eventually made to Mr Whyte for £1 but came with obligations to pay an £18m bank debt, a £2.8m "small tax case" bill, £1.7m for stadium repairs, £5m for players and £5m in working capital.
The second charge under the Companies Act centres on the £18m payment between Mr Whyte's Wavetower company and Rangers to clear a bank debt.
The trial before eight men and seven women continues.