Man guilty of killing former Mr Scotland Michael O'Hanlon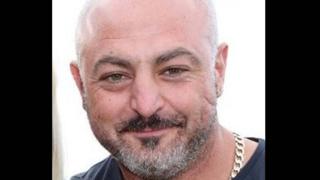 A man has been found guilty of stabbing to death a former Mr Scotland bodybuilding champion.
Steven Kirkwood was originally charged with murder but was convicted of the lesser charge of culpable homicide with provocation over the death of Michael O'Hanlon.
Kirkwood claimed he acted in self defence when he stabbed Mr O'Hanlon at Stevenston, North Ayrshire, last July.
The court heard there was a struggle and Mr O'Hanlon was stabbed four times.
The High Court in Glasgow heard that Kirkwood's ex-partner Eileen O'Hanlon was in a relationship with Michael O'Hanlon and they planned to marry on 15 August last year.
Ms O'Hanlon, who has changed her name by deed poll from Kirkwood to O'Hanlon, said that before the incident, Kirkwood had been sending abusive texts - and that she had also sent texts making comments about Kirkwood's new partner.
Mr O'Hanlon turned up at the HK Autotek garage with his friend Forbes Cowan, 52, a former competitor in the World's Strongest Man contest, after Kirkwood issued a Facebook challenge.
Ms O'Hanlon said: "Michael gave me a kiss and a cuddle and said: 'I won't be long.' He said we had to sort things out before the wedding."
Garage owner Ian Hamilton, 40, from Saltcoats, told the court Kirkwood was in the office when Mr Cowan came in and they began arguing. He then described how Mr O'Hanlon entered and a fight broke out.
He said: "Michael charged through the door with his head down and came at Steven. They tussled, it was a scrummage. It was a wrestle for five seconds."
"Michael backed up out the office stumbling backwards. At that point I saw Steven had a knife in his right hand.
"I saw blood on the entrance door to the office. I saw blood on the knife."
Previous convictions
Mr Hamilton said it was "large Bowie type knife with a six to eight inch blade".
Kirkwood denied taking the knife with him and claimed he picked it up from the office floor in the garage as he was being assaulted by Mr O'Hanlon and Mr Cowan.
In evidence, Kirkwood admitted stabbing Mr O'Hanlon but claimed he was acting in self defence as the other men were raining blows down on him.
He added: "I felt a jagging sensation on the left side of my back coming round to the front.
"I thought they were going to kill me. I thought they were trying to stab me.
"At one point I pushed back and I saw a knife on the floor behind my left foot. I grabbed for it and swung it round behind me."
He told the court he swung the knife about half a dozen times upwards and behind him.
'Wasted life'
Sentence was deferred on Kirkwood, who had previous convictions for violence and carrying weapons, until next month.
Judge Lady Rae said: "This is a very serious offence, although it has been reduced to culpable homicide, particularly in view of his record for violence, and the degree of violence that was occasioned in this particular case."
Mr O'Hanlon, who was 6ft and weighed 17st 3lbs, had been crowned Mr Scotland by the National Amateur Body Builders' Association four months before his death.
Speaking after the verdict, Det Supt Allan Burton from Police Scotland said Kirkwood's conviction could not compensate the family of Michael O'Hanlon.
He added: "This was a senseless death which was the consequence of a long running dispute between the two men.
"In July 2016, Steven Kirkwood armed himself with a knife in anticipation of a confrontation and used it to deadly effect on Michael O'Hanlon. The family of Michael O'Hanlon continue to cope with the loss of their loved one.
"Steven Kirkwood has wasted his own life chances due to the choices he made.
"Two families have been left distraught as a result of this confrontation. Tragically, both men had every opportunity to put their differences aside."