Appeal traces Manchester 'Good Samaritan'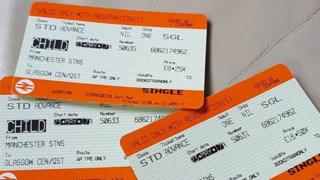 A mother has thanked the woman who helped her daughter and best friend get back to Glasgow after the terror attack in Manchester.
Karen Lamplugh's Facebook post went viral as she tried to find the woman who gave train tickets to the pair, who had been at the Ariana Grande concert.
The post by Ms Lamplugh, from Holytown, was shared more than 4,000 times.
She later posted an update to say it had helped her identify the Good Samaritan as Joanna Forrester.
Faith in humanity
The post said: "Asking for fb help here to find the kind woman from today as many of you know my daughter Nicola Lamplugh and her best friend Chelsea Aitchison were at the Ariana Grande concert in Manchester arena last night.
"This very kind lady who is from this area Glasgow/Lanarkshire who gave them her tickets to Glasgow central as her husband was driving down to Manchester to pick her and her 2 daughters up.
"I'm asking for the power of here to see if I can trace her as I would like to thank her, These are the tickets she gave them. Thanks xx"
She later added: "We have now found this kind woman who gave her tickets to my daughter Nicola and Chelsea her name is Joanna Forrester.
"I would like to thank her so much for her act of kindness it restores my faith in humanity when things like this happen and also to the kind people of Manchester who help everyone involved."