Burst main hits thousands of homes in Cumbernauld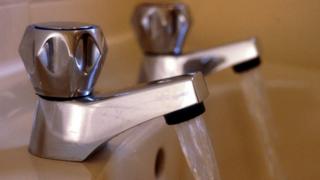 Scottish Water has said supplies to 6,000 homes in the Cumbernauld area should be restored "within the next few hours" following a burst water main.
The areas affected are in East Carbrain, West Carbrain, Town Centre, Seafar and Kildrum.
Scottish Water set up a bottled water distribution site at the council offices at Bron Way, Cumbernauld, for those affected.
Staff from the public utility were on site to offer advice to customers.
In a statement just before 09:00, Scottish Water said repair work had been completed.
It also apologised for any inconvenience caused to customers.
A spokesman said: "Over 6,000 properties had a disruption to their supply following the burst on Sunday and Scottish Water staff worked as quickly as possible to turn customers' water back on.
"Now with the repair complete and the mains recharging, normal water supplies should be restored to all properties within the next few hours.
"As the supply returns it may be slightly discoloured following the repair. If this happens advice is to run the cold water tap until the water runs clear."