Elderly man rescued from overturned car near cliff edge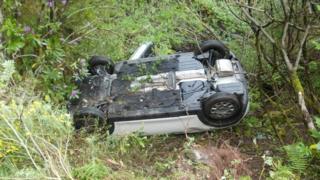 An 81-year-old man was rescued from his overturned car after it left the road and plunged down an embankment onto the edge of a cliff.
The incident happened on the A8003 near Tighnabruaich in Argyll and Bute just before midday on Tuesday.
The man had called 999, but had been unable to tell them his exact location.
Following a search of the area, emergency services discovered the car with the man trapped inside.
He was initially taken to the Cowal Community Hospital in Dunoon, before being transferred to Inverclyde Hospital.