Glasgow east end hospital set to close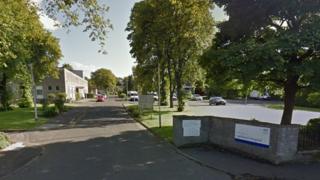 A community hospital in Glasgow's east end, which provides rehabilitative care for older patients, has been earmarked for closure.
NHS Greater Glasgow and Clyde said the service model at Lightburn Hospital no longer fitted with modern healthcare.
It said a health and social care hub would be set up with £40m.
Parkinson's UK criticised the proposed closure and said the hospital provided essential services to vulnerable people in a disadvantaged area.
NHSGGC said inpatients across the north east of Glasgow would be served by "fit-for-purpose" facilities at Stobhill Hospital.
'National strategy'
It said local care homes would be commissioned to provide an extended level of care to inpatients, not requiring acute facilities.
More patients would be discharged from Glasgow Royal Infirmary directly to home, with additional support if required.
Stobhill Hospital would provide day hospital and outpatient services, it said.
Finally, it said Parkinson's services would be delivered from Glasgow Royal Infirmary.
NHSGGC chief executive Jane Grant said the proposals were consistent with national strategy to shift care from acute hospitals to community services delivered by health and social care partnerships.
"The proposed hub will give real opportunity to further integrate health and social care services to the benefit of patients and service users."
She said the decision followed a three-month consultation, which included service users.
Previous closure plans
The Scottish government rejected proposals to close Lightburn Hospital in 2011.
At the time, Nicola Sturgeon, who was then health secretary, had said local people's interests were best served by maintaining Lightburn Hospital and its healthcare services.
In August 2016, NHSGGC announced plans to consult on proposals to close or cut down on some in-patient and maternity services.
The latest decision by the health board to close Lightburn Hospital will be referred to Health Secretary Shona Robison.
Katherine Crawford, of Parkinson's UK, said: "While we are relieved that the Health Board has recognised the value of the Parkinson's service and has committed to maintain current levels of support, we are concerned that the removal of Lightburn as the hub for service delivery presents major challenges."
She said the kind of care provided at the hospital was the type of care that the Scottish government has said should be provided at community level.
"We should be proud of local facilities like the Lightburn and be investing in them - not closing them," she said.