Waverley marks maiden voyage anniversary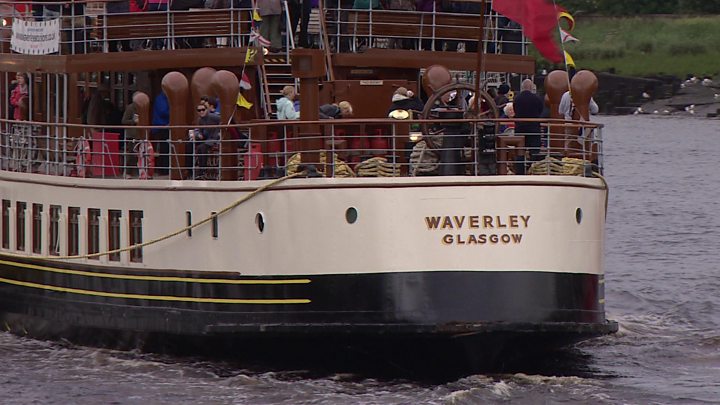 The world's last sea-going paddle steamer is celebrating the 70th anniversary of its maiden voyage.
PS Waverley entered service on 16 June 1947, sailing from the Clyde, near Helensburgh, up Loch Long to Arrochar
She was given a celebratory send off with a piper in Glasgow before retracing her first voyage.
Among the 300 people on board were two men - James Stevenson and Alistair Thories - who were on the maiden sailing 70 years ago.
Mr Stevenson has been a regular passenger over the years - but on this voyage he released a message in a bottle.
He said: "I was there 70 years ago. Pure chance wasn't it - but then life's pure chance. Regarding the Waverley, I've kept up the tradition of coming every year I think."
For Mr Thories, the voyage brought back many memories.
"It's very emotional because to me The Waverley is memories of my parents," he said.
"I was 10 when they took me down on The Waverley in 1947. She was brand new, she's just looking like she was then. It was a breezy day - but a good deal sunnier, as I remember."
Named after Sir Walter Scott's debut novel, she was the second steamship to bear the name PS Waverley
She was built as a replacement after the first steamer was sunk during the Dunkirk evacuation in 1940 after being requisitioned as a minesweeper.
PS Waverley was launched in 1946 but materials were so short after the war, there were delays in fitting her boiler and it was the following year before she entered service.
In 1975, at the end of her working life, she was famously bought for £1 by the Paddle Steamer Preservation Society.
She then began a second career as one of the country's best-loved tourist attractions, and now carries about 130,000 passengers a year.
Captain Ross Cochrane said navigating such a ship was trickier now that many of the old wooden piers at Scottish ports had disappeared.
He said: "She was originally built to call at the "steamer piers" on the Clyde - nice wooden structures - but unfortunately a lot of those have fallen into disrepair and we can't call there anymore.
"Some of the harbours we go to are quite challenging and quite tight.
"The ship doesn't handle quite as well as a modern ship would."
---
The Waverley - facts and figures
Built by A. & J. Inglis of Glasgow and launched in October 1946.
Entered service with the London and North Eastern Railway in June 1947, working LNER's Firth of Clyde steamer route from Craigendoran Pier, near Helensburgh, to Arrochar.
Powered by a three-crank diagonal triple-expansion marine steam engine built by Rankin & Blackmore in Greenock.
Now painted in original LNER 1947 livery of red, white and black funnels, traditional brown-grained (or "scumbled") superstructure and black paddle-wheel boxes.
July 1977 - badly damaged when she struck rocks near Dunoon. The heavier than normal post-war construction which made provision for possible future military use as a minesweeper may have helped her stay together while she was refloated.
June 2009 - struck the breakwater at Dunoon with 700 passengers on board, 12 of whom suffered minor injuries.
Since being sold to the Paddle Steamer Preservation Society, she has carried more than five million passengers.