Parents fight on to save St Joseph's Primary School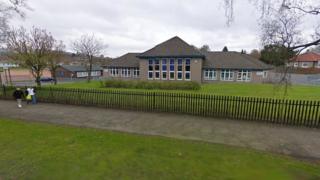 Campaigners have vowed to continue their fight to save their local primary school after a bid to remove it from council control was rejected.
Campaigners for closure-threatened St Joseph's Primary School in East Dunbartonshire said they were "very disappointed" by the decision.
Education Secretary John Swinney rejected the bid for the school to be run by the community.
The Scottish government said schools needed support frameworks to function.
Mr Swinney's decision on St Joseph's, in Milngavie, was announced on the day he set out wide-ranging changes that will give more powers to head teachers.
However, he insisted that councils still had a vital role to play in education.
Plans for the school to be run by the community were first submitted to the Scottish government in February 2015 after receiving unanimous support from the school's parent council.
Chairwoman Helen Williams said she was "very disappointed".
"After sitting on our proposals for more than two years, it would have been nice to get a phone call from John Swinney himself instead of an anonymous civil servant," she said.
"The education secretary ought to know that he won't improve education by allowing good schools to close. All we were asking for was a pilot to prove that a community-led school could work successfully."
Parent power
Paula Speirs, whose two children attended St Joseph's, added: "The success of Jordanhill, in Glasgow, shows that giving parents a bigger say in schools can help raise standards. We don't understand why the Scottish government won't let us do the same in Milngavie.
"However, our campaign was always about saving our school rather than getting involved in bigger debates about Scottish education. That is still our priority and we are going to keep on fighting."
A Scottish government spokeswoman said the application had been carefully considered.
She added: "We recognise what these parents are trying to achieve for their schools and their children, but schools also need support frameworks to function well.
"The reforms set out by the deputy first minister this week will significantly increase the autonomy of schools, the role of parents in school life and ensure our schools are rooted in their communities.
"Crucially, these reforms will deliver this within a clear national and local framework of policy and support.
"That collaborative approach is a key strength of the Scottish system and critical to improving attainment and closing the attainment gap. The specific proposals from parents at St Joseph's would remove schools from that crucial support structure."