Mother of Emma Caldwell in new TV appeal over 2005 murder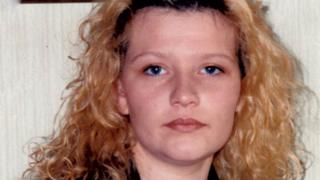 The mother of a woman murdered 12 years ago has made a BBC Crimewatch appeal for help in finding her killer.
Emma Caldwell, 27, was found dead in Roberton woods near Biggar, South Lanarkshire, in May 2005, a month after she was last seen alive.
Her mother Margaret urged anyone with information to come forward. She said: "You're out there, you know, this man is a danger to other women."
The Crown Office asked police to reinvestigate the case in 2015.
BBC's Crimewatch Roadshow showed CCTV footage taken on 4 April 2005 which showed Ms Caldwell walking along Inglefield Street shortly before 23:00.
It was the last time she was seen alive.
Margaret Caldwell described how Emma was missed by her family "every day".
"Please help us as a family, please come forward, that's all we need," she said.
Ms Caldwell had been working as a prostitute in Glasgow at the time of her death.
Her body was found about 70 miles away from the city centre.
Det Supt David McLaren, from Police Scotland, said he wanted to hear from other prostitutes working in the city in 2005.
He said: "We know from our investigation, it was unusual for women involved in prostitution to go so far from the city.
"I'm certain there are women out there who have been taken to that location or taken excessive miles outside Glasgow, while they have been involved in prostitution, either back in 2005 or maybe still today."
He added: "You can see the impact Emma's death has had on her family."
Emma's uncle, Jim Coyle, said visiting the site where her body was found had flooded his mind with emotions.
He said: "How terrified she must have been, what ordeal did she go through?"
In April, police revealed they were carrying out new searches near where her body was found and were investigating a potential new sighting of her on the day she disappeared.
Two weeks ago it was revealed "several items" of new evidence including women's clothing had been found in a search of woodland near Roberton.
Detectives believe Ms Caldwell may have been seen at the bottom of Argyle Street in the city at about 23:30 on the night she went missing.
Ms Caldwell, originally from Erskine in Renfrewshire, could have been seen getting into a black saloon car, similar to a BMW, that may have been owned by someone from the Dumfries area who regularly came to Glasgow.