Union concerns over abuse towards rail staff in Hamilton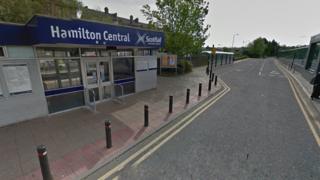 ScotRail has been accused of ignoring an increase in violence towards its staff at Hamilton Central.
Rail union RMT said management had failed to take action over a "surge" in gang-related anti-social behaviour at the station over the past two years.
RMT members are to stage a protest at the station at 17:00 on Wednesday.
Scotrail said it had met the RMT, police and the council to discuss problems in Hamilton, which it said were not just confined to the railway.
A ScotRail Alliance spokesman said: "The safety of our staff and customers is always our number one priority.
"The crimes that are taking place are totally unacceptable - and are not just restricted to the railway station.
"We are working with the police to make sure that the people responsible are caught."
The union said while the protest related to the situation at Hamilton Central, it also reflected a problem with violence and abuse across the network.
The RMT's Mick Cash said: "It is truly appalling that rail workers have no option but to mount protests to force the rail operators and the Scottish government to wake up and take action over the surge in violence at Hamilton Central and other points on the Scottish rail network.
"Our members are telling us in stark terms that the gangs are winning and it is open season on the front-line rail staff who are offered no serious protection by ScotRail."