Ministers approve Islay tidal energy park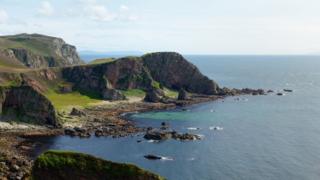 Ministers have granted permission for a major tidal energy park off the coast of Islay.
The 30-turbine West Islay Tidal Energy Park has been approved at a site about three miles off the south-west coast of the island in Argyll and Bute.
The DP Marine Energy Limited development will have a generating capacity of up to 30MWh - enough to power the equivalent of 18,000 homes.
It is also expected to create up to 32 jobs.
Energy Minister Paul Wheelhouse said marine renewables offered "huge potential" to the Scottish economy.
"Scotland has a third of the UK's tidal stream resources and two-thirds of its wave resources.
"We are also home to the world's leading wave and tidal test centre, the world's largest planned tidal stream array and the world's largest tidal turbine.
"The West Islay Tidal Energy Park builds upon this strong foundation."
Gina Hanrahan, acting head of policy at WWF Scotland, said: "With a third of Europe's tidal potential, Scotland's powerful seas have a significant contribution to make in the fight against climate change.
"The renewable energy transition is happening globally at a pace many thought impossible only a few years ago.
"If Scotland is to continue to reap the benefits of innovation, slashing emissions, powering communities and creating local jobs, the Scottish government's final energy strategy must ensure there are policies in place to replicate the progress we've made on renewable electricity in the heat and transport sectors."
Crown Estate Scotland has also welcomed the planning approval.
Chief executive Ronnie Quinn said: "Crown Estate Scotland looks forward to working with the Islay tidal park's development team as work progresses and to continue our work in helping to build strong, sustainable marine industries, of which offshore renewables is an important part."