Jury asked to convict acid attack accused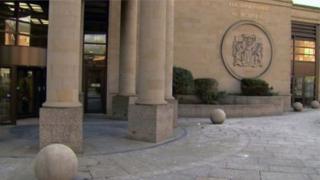 A jury has been asked to convict two men accused of an alleged doorstep acid attack on a crime journalist.
William Burns, 56, and Alexander Porter, 48, deny throwing sulphuric acid at Russell Findlay at his Glasgow home in December 2015.
Prosecutor Richard Goddard said in his closing speech at the High Court in Glasgow that the evidence against Mr Burns was "utterly overwhelming."
He said there was strong circumstantial evidence against Mr Porter.
Mr Goddard told jurors: "William Burns and Alexander Porter operated as a team.
"Mr Burns was the attacker, the hitman if you like, and Mr Porter was the getaway driver."
Mr Goddard said Mr Findlay was the investigations editor at the Scottish Sun at the time and remembered hearing the doorbell at 08:30.
He said: "Mr Burns was disguised as a postman and Mr Findlay felt liquid thrown over the right side of his face.
"He was attacked in a quite horrific way."
'Television drama'
Mr Goddard said Mr Burns' evidence, in which he said Mr Findlay may have thrown the acid in his own face, was "like a badly scripted television drama."
Mr Burns also told the jury that he only went to Mr Findlay's door because the journalist claimed he had a compromising photograph of him with a young blonde woman and was threatening to show it to his wife.
The prosecutor said there was also evidence to convict Mr Porter.
Mr Goodard said Mr Porter's DNA was on a knife found at the scene and a car similar to the gold Volvo S40 he drove was seen in a street close to where Mr Findlay lived.
Defence counsel Thomas Ross, representing Mr Burns, invited the jury to convict his client of pretending to be a postman, struggling with Mr Findlay and repeatedly punching him.
But Mr Ross asked the jurors to acquit Mr Burns of the acid attack and having a knife with him.
He told the jurors to be wary of Mr Findlay's evidence and said: "He said that acid actually went into his mouth.
"That was a bare-faced lie. A doctor who examined him checked his mouth and said there was zero evidence of damage."
Defence counsel Susan Duff asked the jury to acquit Mr Porter.
She told the jurors that as a test, they should take a blank piece of paper and write down the evidence against Mr Porter.
Mrs Duff said: " I suggest you wouldn't find anything to write on the paper."
The trial continues.