New logo unveiled as Mòd returns to Glasgow in 2019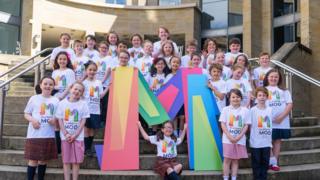 Schoolchildren from across Glasgow have joined together for the unveiling of a new logo for the Royal National Mòd 2019.
The colourful logo was developed by Glasgow-based design agency The Creative Cell (An Còmhlan Cruthachail).
It is part of a new look for the 120 year-old festival.
Organisers hope it will increase awareness of the festival amongst both Gaelic and non-Gaelic speakers before the Mòd's return to the city in 2019.
It the first time Glasgow has hosted the celebration in 29 years.
Donald Iain Brown, chair of Mòd Ghlaschu 2019, said: "We knew then that we had to create a vibrant brand to take the festival forward.
"Music and song performed in any language is a unifying experience.
"Our intention is to engage as many people as possible and encourage the city of Glasgow to support and enjoy all that their cultural heritage has to offer."
The Royal National Mòd 2019 will take place in Glasgow's Royal Concert Hall from Friday 11 to Saturday 19 October.
It will bring thousands of competitors from across Scotland and the world to take part in Highland dancing, sport, literature and drama, as well as Gaelic music and song.