Police appeal over fire at derelict church in Alexandria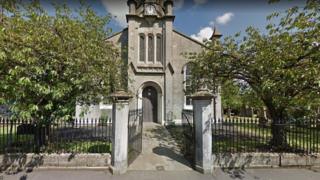 Police are investigating after a fire was started deliberately at a derelict church in West Dunbartonshire.
The incident took place at about 20:00 on Saturday, when members of the public noticed smoke coming from the building in Main Street, Alexandria.
Emergency services attended and a small fire inside the church was put out.
Police would like to hear from anyone who may have seen someone acting suspiciously at the building on Saturday night.
Insp Allan Orr said: "Thankfully there was no-one in the building and no-one injured as a result of the fire or the smoke.
"However, had the two members of the public not noticed the smoke, the fire could have spread and the consequences much worse."