Gait retraining considered for arthritis patients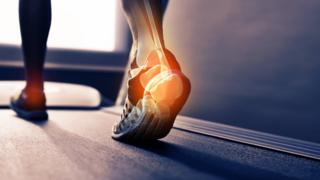 A walking technique which aims to help improve posture, balance and stability, could be used to improve the lives people with rheumatoid arthritis.
Glasgow Caledonian University has received £1.8m to run trials for patients who have painful joints which result in difficulties walking.
Gait rehabilitation has been proven to help patients with mobility issues resulting from neurological conditions.
The five-year study was funded by the National Institute for Health Research.
The Great study (Gait Rehabilitation in Early Arthritis Trial) will involve a initial feasibility study with patients from NHS regions in Scotland and England.
This will be followed by a large trial to investigate whether gait rehabilitation should be offered to all people with early rheumatoid arthritis.
The technique involves undertaking repetitive tasks using a walking circuit, combined with behavioural approaches.
Inflammation control
Rheumatoid arthritis is a chronic autoimmune disease that attacks multiple joints throughout the body.
During the first two years of diagnosis, patients usually receive medication to control inflammation and may be referred for physiotherapy and/or podiatry for stretching and strengthening exercises and insoles.
While some patients improve, many may continue to suffer from foot pain, walking difficulties and problems performing daily activities.
Glasgow Caledonian University researchers in musculoskeletal health, Prof Martijn Steultjens and Dr Gordon Hendry, will work with partners at Keele University, King's College London, Salford University and the University of Glasgow.
Prof Steultjens said: "We are thrilled to have been awarded this substantial grant from NIHR.
"We are looking forward to working with our colleagues and patients to further develop the rehabilitation intervention and to then establish whether it is effective in improving patients' lives."