Masked men 'with gun' raid house in Robroyston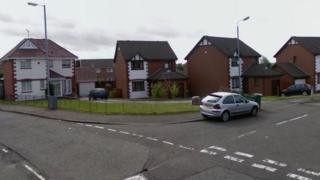 Three masked men forced their way into a house and allegedly threatened the occupants with a firearm in the Robroyston area of Glasgow.
Two women aged 47 and 19 and a 26-year-old man were in the property in Pinwherry Drive at about 23:45 on Tuesday when the incident happened.
The men ransacked the house and made off in a dark-coloured Audi.
Police said there may have been a second Audi at the scene and a further three men, who did not enter the house.
Two of the three men who went into the house were described 6ft tall and 5ft 6in and both with skinny builds.
The men were wearing dark clothing and some were wearing balaclavas, including the two men described.
Nobody was injured during the incident and no firearm was discharged.
Police inquiries are continuing.