Scottish Power offers £3,000 reward after Govan fire caused outage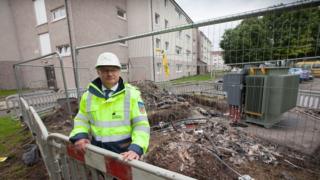 An electricity firm is offering a cash reward to anyone with information which leads to the conviction of vandals who caused a power cut in 1,000 homes.
Scottish Power has pledged £3,000 after vandals targeted an electrical substation in Glasgow causing a fire which resulted in the outage.
The incident happened in Napier Drive, Govan, at about 18:20 on 26 June.
The company said the distribution box, in a predominantly residential area, was completely destroyed by the fire.
Engineers from SP Energy Networks reconnected homes within a few hours by switching supplies on to another part of the electricity network.
This provides a temporary fix until a new substation can be installed and connected.
'Deliberate fire'
David Guthrie, district manager at SP Energy Networks for the Glasgow area, said: "Illegal tampering with anything that links to the electricity network can be extremely dangerous and whoever was behind this vandalism clearly doesn't care about the consequences.
"The location of the fire on Napier Drive is in a residential area and close to a number of homes.
"Given the time of day this incident happened, there could also have been children playing nearby. It beggars belief that anyone could risk the lives of local people in this way.
"We will work closely with the police to help catch those behind this reckless fire and are offering a reward of £3,000 to anyone who provides information which eventually leads to the conviction of any of those responsible."
Police Scotland described the vandalism as "irresponsible and selfish".
Insp Kevin Lammie, from Safer Communities with Greater Glasgow Police, added: "Setting a deliberate fire anywhere is reckless, but to set fire to a substation which powers people's homes is irresponsible, selfish and could have seriously affected, for example, people who are sick or vulnerable in the area.
"Our inquiries are continuing and if anyone has information that will assist officers trace those responsible, please contact Govan police station via 101."