Glasgow play park shooting victim photo issued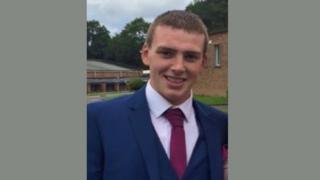 Police have issued a photo of Jamie Lee who was killed in a "targeted attack" during a large-scale incident which injured five other men.
The 22 year old was seriously hurt during the incident near a play park in Castlemilk at about 20:00 on Saturday. He died in hospital the following day.
Friends paid tributes to Mr Lee on social media, with one describing him as "well loved by everyone".
Police are treating his death as murder.
A 62-year-old man was shot and four others received more minor injuries during the incident, which police said involved up to 15 people.
It is believed the men involved were known to one another and sought each other out in targeted attacks.
Using Mr Lee's nickname YL, Harry Rennie posted on Facebook: "R.I.P yl my brother, one of a kind!! Legend, heartbroken man."
William McElwaine said: "RIP yl you were wanna the nicest boys a knew you'll be sorely missed."
Cazza Arr said: "Can't belive am writing this. Such a Genuine Guy And Well Loved by Everyone R.I.P. YL. Fly High Son."
Officers have appealed to anyone who saw the disturbance, which happened on the footpath at the bottom of Ballantay Terrace, to contact them.
One member of the public in his 40s, who asked not to be named, said: "They were all pals, those involved, but just had a disagreement and it escalated.
"It's tragic what happened."