Van crashes into Ayr police station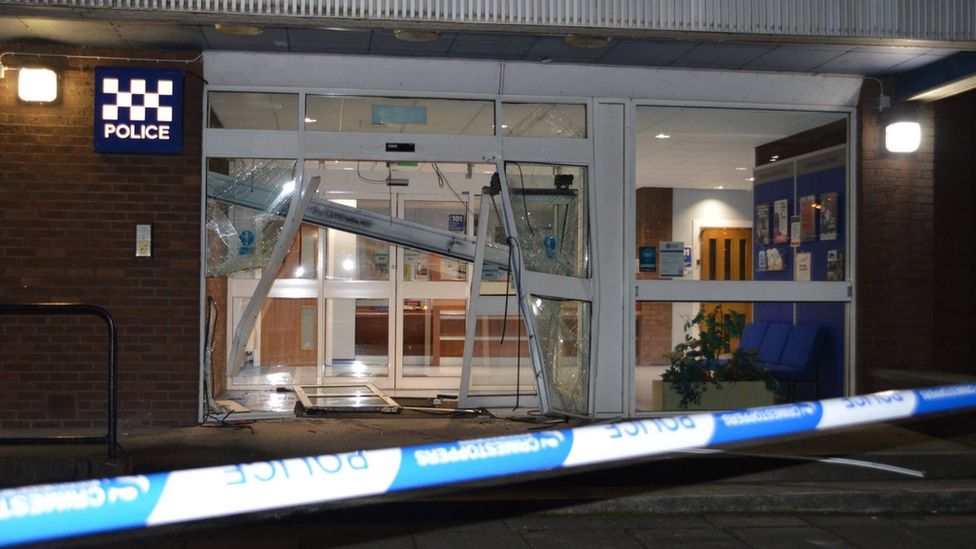 A driver has been arrested after crashing his van into the front door of a police station in Ayrshire.
No-one was injured in the incident in the early hours of Sunday morning but the police office in Ayr was badly damaged.
The 38-year-old driver was arrested on the outskirts of the town following a police pursuit.
The incident is not being treated as terror-related. The office is expected to reopen later on Sunday.
A spokeswoman for Police Scotland said the white Vauxhall Combo van crashed into the front doors of Ayr Police Office on Kings Street before heading off in the direction of the A77 at about 00:55 on Sunday.
She said: "Following a vehicle pursuit, the van was forcibly stopped by road policing officers near to Rabbit Wood, east of the junction of the A719, for Tarbolton.
"Ambulance attended, however, the 38-year-old driver of the van was not injured.
"No officers were injured as a result of the incident, however, the front of Ayr Police Office was extensively damaged. Once safety work has been completed, the office is expected to be open to the public later today.
"A 36-year-old man has been arrested and is presently detained in police custody in connection with alleged drink driving and road traffic offences."
The man is expected to appear at Ayr Sheriff Court on Monday.