Teenager detained for raping six-year-old girl in Glasgow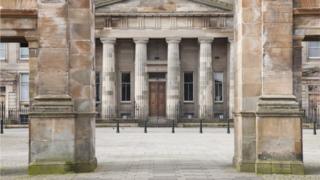 A 15-year-old rapist who attacked a young girl has been detained for six years.
The teenager assaulted the six-year-old at his then home in Glasgow's West End in 2015.
He also molested another girl who was about eight at the time.
The boy - who was 14 at the time - denied the crimes, but was found guilty of rape and sexual assault following a trial at the High Court in Glasgow.
Judge Lord Mulholland told the teenager: "A girl was in your home... you abused that situation for your own sexual gratification.
"This was without concern for the long-term damage that your actions could cause."
The judge said he had indecently assaulted the other girl under "the pretext of a body search as sometimes happens at airports".
The rapist - who was also put on the sex offenders list - sobbed as he was led to the cells.
'Bad thing'
Neither the rapist nor the two victims can be identified for legal reasons.
Suspicion first arose when a conversation one of the girls had with other children was overheard. Police were called in the following day.
The court heard that the older girl said she saw the teenager do a "bad thing" to the younger child.
In her closing speech, prosecutor Angela Gray told jurors they would be "entitled to conclude" that she "witnessed the rape".
Ms Gray said: "The testimony given by both was so evidently honest, credible and reliable that you should have no difficulty in accepting their accounts."
'No explanation'
The court heard the accused came from a "hard-working family".
He had a key for his house, but the "trust and responsibility" given to him saw him take advantage to abuse the girls.
The 15-year-old gave evidence during the trial and denied his guilt.
Prosecutors said the boy had implied the victims were "devious children, accomplished liars who have concocted a story against him for no reason".
Miss Gray added: "He was not able to offer you any explanation whatsoever as to why the two young girls would lie about him."