Police appeal for make-up thief is social media hit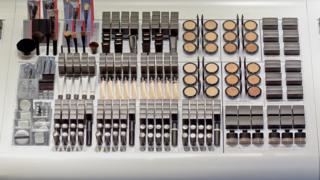 A light-hearted appeal to trace a shoplifter by police in Lanarkshire has become a social media hit.
Officers turned to Twitter in a bid to find a thief who stole £600 worth of cosmetics from a local Boots store.
"We are looking for a 40-year-old man who looks 20, glowing skin, long eyelashes, raised eyebrows & pronounced lips," they added.
In response, one pun-loving joker replied: "Is there any foundation to these allegations?"
The post by Monklands police sparked a series of witty responses from their followers on the social media platform.
Referring to a popular brand of make-up, one asked: "If you put him in an identity parade, will he be No 7 in the line up?"
Another said: "When questioned as to why he had allegedly stolen £600 of cosmetics the suspect simply answered 'Because I'm worth it.'"
The theft happened at Boots in Main Street, Coatbridge, at about 12:30 on Thursday.
Anyone with information is asked to call Police Scotland on 101 or Crimestoppers.