Man jailed after stabbing two strangers on night out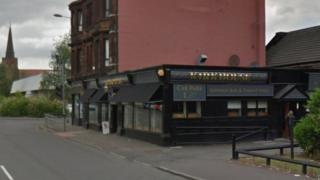 A man who stabbed two strangers on a night out with their wives in Glasgow has been jailed for six years.
Barry Duffy attacked Andrew Woodburn, 38, and Richard Hendry, 39, after bar staff refused to serve him in the Kirkhouse Inn, Shettleston, on 5 March.
The 34-year-old pled guilty at the High Court in Glasgow to assaulting both men to the danger of their lives.
Mr Woodburn suffered a facial wound and Mr Hendry suffered head and chest injuries during the incident.
The court heard Duffy had argued with bar staff after they refused to serve him for being too drunk.
'Swinging a knife'
Mr Hendry had stepped in and told him to leave, and Duffy initially tried to head butt him.
Mr Woodburn then attempted to help his friend.
A judge was shown CCTV footage of Duffy swinging a knife at the men as they sat a table.
Lady Stacey told Duffy: "You caused injuries to people who caused you no harm."
The court heard that Duffy had a high court firearms conviction from 2009.