Scotland to have new film and television school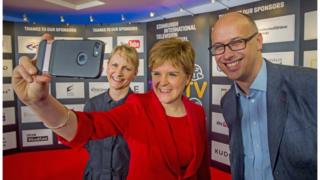 The National Film and Television School (NFTS) is to set up a base in Scotland.
The new NFTS facility is being established in partnership with BBC Scotland and will be based at the corporation's Glasgow Pacific Quay headquarters and Dumbarton studios.
The plan has been announced by First Minister Nicola Sturgeon, who said the Scottish government would provide backing worth £475,000.
A third of the new places will be fully funded scholarships.
This is intended to "enhance equality and diversity in the screen sector".
NFTS offers postgraduate courses for film, television and the games industry.
Speaking at the Edinburgh International Television Festival, Ms Sturgeon said: "This is an exciting development for our screen sector which is already an area of growth for Scotland.
"While we have excellent university and college provision for a range of screen subjects and media skills, NFTS' plans will complement and expand the training opportunities available in Scotland.
"We have seen a rise in high-profile film and television productions being made in Scotland, and this government is focused on ensuring that continues."
The first minister added: "As the BBC expands its operations in Scotland - specifically in Scottish news and drama productions - we must ensure people can gain and update the skills they need to capitalise on the opportunities ahead."
The BBC has committed additional investment of £40m a year in Scotland and is proposing to launch a new channel next year. It will also produce more network output in future.
The backers of the NFTS plan describe the funding of a third of places as scholarships for the first two years as an "aspiration".
The Scottish government and the BBC are contributing to a bursary fund to meet scholarship costs. This is intended to ensure students are drawn from a broad range of backgrounds.
NFTS director Jon Wardle said: "The NFTS has a proud history of developing Scottish talent from its base in Beaconsfield, so we are incredibly pleased to announce the expansion of the school into Scotland and look forward to making an even greater contribution to the Scottish economy through our unparalleled reputation for delivering high-calibre, job-ready graduates."
NFTS is expected to open early in 2018, with students enrolling from April.
Annual student numbers are projected at 450. These will include 100 full-time students, 50 others studying part-time, and a further 250 undertaking Continuing Professional Development (CPD) courses.
BBC Scotland director Donalda MacKinnon said: "BBC Scotland already has an excellent track record in helping to create the broadcasting stars of the future through our various apprenticeship and training projects, so hosting the NFTS in our Glasgow HQ will build on that.
"The NFTS has a well deserved international reputation for the quality of its training so we're very happy to be working in partnership with them to ensure that we and other broadcasters - along with the film industry in Scotland - have a well trained and well-educated workforce to select from for many years to come."